Once again I really couldn't decide on just one post for
Mama Kat's Writer's Workshop
... I was going to do three, but practiced a tiny bit of self-restraint and decided to stop at two...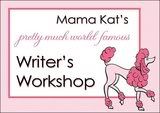 First is:
"Write about your wedding song. What was it and why did you choose it?"
Now, I am a BIG TIME Beatles fan. I have been for years. I have more Beatles cd's, records, dvds, vhs tapes, and memorabilia than I know what to do with... And I know all their songs. All of them. Well, every so often I will burn myself a kind of "mixed tape" of Beatles' songs so that I can listen to my favorites without having to pull out a bunch of different cd's... (And I know that an MP3 player would make SO much more sense, but I just never use my boring old iPod for some reason... It just doesn't even cross my mind... Now I feel silly and will have to go home and load all of my music... haha) Anywho...
Way back when J and I were first dating, I was in mushy-romantic mode and made one with all my favorite Beatles love songs... It could have ended up being any of them... I'm trying to think what all of them were... We had "And I Love Her," "Maybe I'm Amazed" (even though it is a solo Paul song), "Something," "You've Got To Hide Your Love Away," "Here, There, and Everywhere," "Till There Was You," and a few others...
And I honestly could kick myself right now. I was so sure that our song was "And I Love Her," and I am still 99% sure it was... But I just listened to "Here, There, and Everywhere" and that seems like a good possibility too! Oh no! It's supposed to be the guy that forgets these things!! AHH!
No... I'm sure it was "And I Love Her." I think. Oh em gee. What is wrong with me? Haha! No, it was... (Ok, so maybe 5 years and the day going by in the blink of an eye have made specific details a little fuzzy...)
So anyway – either way... We listened to this cd a lot and whenever either of those songs came on (I'm not just saying this to make up for fuzzy memories... I can actually feel his hand on mine as soon as I hear the first notes of either...) he would hold my hand and we would sing along and he would kiss my hand and we would generally be sappy, silly, goofy, and new in love... I am pretty stinking positive that it was "And I Love Her" because I had always loved the guitars in it...
Huh... Great... My cute mushy story just turned into a big lump of confusion! Oops... Oh well – I'm gonna have to find that cd, because I'm pretty sure I remember which number track it was...
Well, after that disaster, I'm afraid to do the other prompt, but here we go...
The second one:
"Post a picture and a description that fits into this quote for you: 'How far to heaven? Just open your eyes and look. You are in heaven.' – Shankar"
As with everything else, I couldn't choose just one... These were taken on our honeymoon cruise to Alaska. The first picture is of a gorgeous, serene lake in Juneau. It was amazing. I could have stayed there sitting on a log by the lake staring at the water and the glacier and mountain in the distance all day – I didn't even care that it was raining a little. The soft rain just made it more perfect somehow. I adore Juneau and could very happily spend the rest of my life wandering the trails around the lakes and glaciers there...
The second was when we were in Sitka nearing the end of our trip. It was beautiful and there was a gorgeous forest that wasn't very far from where we were brought to shore, so we walked there and then hiked around – snapping pictures the whole time. I remember just being in awe of how beautiful it was. I was getting sad that we were going to have to go back home and leave it all behind... At least we have amazing pictures to remember it by...
And we WILL go back there some day...