This week I was not planning on participating in
Mama Kat's Writer's Workshop
because I didn't really have anything good to write about. Until last night, when I suddenly had something to write about for the prompt "This one time I was sleeping and…" My chest feels tight just thinking about it again....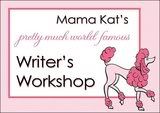 So, I have always had very vivid dreams. I can go for months without remembering a dream, but then they come back. Usually with a vengeance... Last night was no exception.
I had a dream last night that I was in a plane crash.
I was on a plane – don't know where I was going, why I was going there, or if I was with anyone – and I remember that I was woken up from a nap (I'm weird, I sleep in my dreams sometimes) on the plane by a slight jolt. I thought we were just starting to land, so I looked out my window.
We weren't landing.
I watched as the plane pointed more and more directly at the ground. I remember there was water and land – it looked like a city, but I didn't recognize it. Completely helpless, I turned and buried my face in the chair and braced my feet on the back of the chair in front of me. I knew that there was nothing I could do to stop it, so the best I could hope for was for it to be over quickly and not have to see what was happening. I was holding my breath as the pain and heat started from my feet up.
I woke up feeling like I was on fire. Even though we keep our house at 70 degrees at night and all I had covering me was a sheet. It took a little while of being completely uncovered and clinging desperately to my sleeping husband to soothe myself enough to sleep again...
And, of course, I did my childhood trick to make the bad dream stay away by rolling over and laying on the opposite side of how I was laying during the dream. It always seemed to snap me out of that dream and start a new one. If I stayed in the same spot and position, I could usually get right back into a dream again.
And I didn't want to get back in that one.